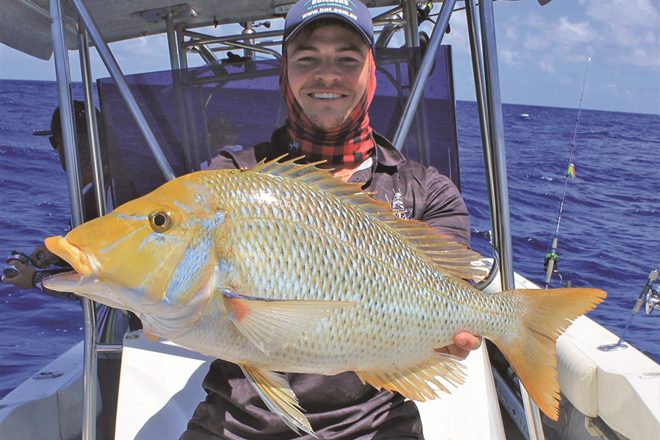 1770 fishing trip a total success
FISHING in a new location is similar to day one in a new school.
Either you make a bunch of friends (catch a lot of fish) or you just don't get along with anyone very well and don't enjoy your time (don't catch anything and bomb). Fortunately, on my first fishing trip in 1770, I made a bunch of friends. To say it's a whole new world of fishing there compared to Brisbane is an understatement.
I was lucky enough to have a holiday over Christmas and earlier this year, so we organized a weeklong fishing trip in 1770, a place we had never visited, let alone fished, so a weeklong trip provided a great opportunity to explore and find out what this lovely place had to offer.
Upon arrival at Agnes Water / 1770, the first impressions were that it was a hardened fishing village, with boats and itinerant fishermen like us everywhere.
First on our list was to head up to the ramp and check out the facilities. It's always a good option before you quickly go toss your boat in the drink, especially if you've never used the ramp before. Luckily for us the facilities were top notch.
As we rolled down the hill and around the bend to the ramp, I could see a procession of parked trailers and trucks. It told me a lot of people were on the water and it would be a very busy ramp in the morning and late arvos.
We found a place for my truck and Short beak so we can go and chat with some of the fishos returning from the ocean. The first boat we stepped on had a pretty decent catch of coral trout and mixed reefs.
Chatting with a number of other returning fishos revealed a lot more catches of the same genre. This is when the nerves set in. What if I can't find a fish and end up looking like an idiot in front of my family?
The first day of the 1770 fishing action had arrived and the weather gods had not activated it. It was blowing 15-20 knots all day and it was a 60km punch to the reef on a short, steep incline. Eventually we made it to the reef and as soon as we were in range I started using my electronics to mark every bump and bump so we could go back and fish for them later. This is good practice if you have never fished in an area. It is good to explore first and see what kind of country you are going to be fishing.
You can still fish along the way. While probing around, place a lure spread in the back and troll at around six knots. You never know what you will pick up on the reef. After making some good sound, it was time to go fishing. I set up the daggerboard and told the family to deploy their gear. Everyone was fishing with a different technique and within 30 seconds everyone had a legal fish.
When they all hit the bridge, I really sighed in relief. We had picked up a nice mixed bag of emperor robin and tuskfish, which was a really good first drop anyway.
The unreal fishing of 1770 continued throughout our time on the water and many personal bests were set and broken. Trophy fish after the trophy fish shot Short beakand with every drop we would have a fish. It was quite rare for someone to miss it.
The ever-loyal, lightly weighted floatline produced a lot of good fish, but then again, so did the plastics and soft vibes. The number of ways to fish in these fish-rich waters is what impressed me the most. Everything we sent would be eaten. It was a great place to learn fishing techniques off Brisbane.
After catching a really good box of fish, I wanted to go find more ground to make sure I have an arsenal of markers in the GPS for the next time. So we set up a series of decoys in the hope of some drag-squealing action while we probed. As we rounded the south end of Fitzroy Reef, I heard one of the reels go off and my brother yelled "Marlin!" ".
I was blown away when I turned around and saw a black man jump from behind. What amazed me even more was that we had caught the fish in only 13m of water, which is a similar depth to the black micro-marlin fishery on Fraser Island. The spread was cleared and it was combat stations in Short beak. After a five minute fight, we had the marlin on the leader.
For my old boy and two brothers seeing a marlin was completely new and they were amazed at how acrobatic and graceful they are in the water. After swimming the marlin for a few minutes it was rearing up to go, so he went and watching it swim made everyone smile.
It was an unreal trip and something we will be doing more often. I could sit here all day in front of the computer writing about how unreal our 1770 fishing adventure was, but basically it's something you have to experience for yourself.
If you want to come fishing with me one day, book an outing on Moreton Island Fishing Charters by giving me a bell on 0413 128 056.