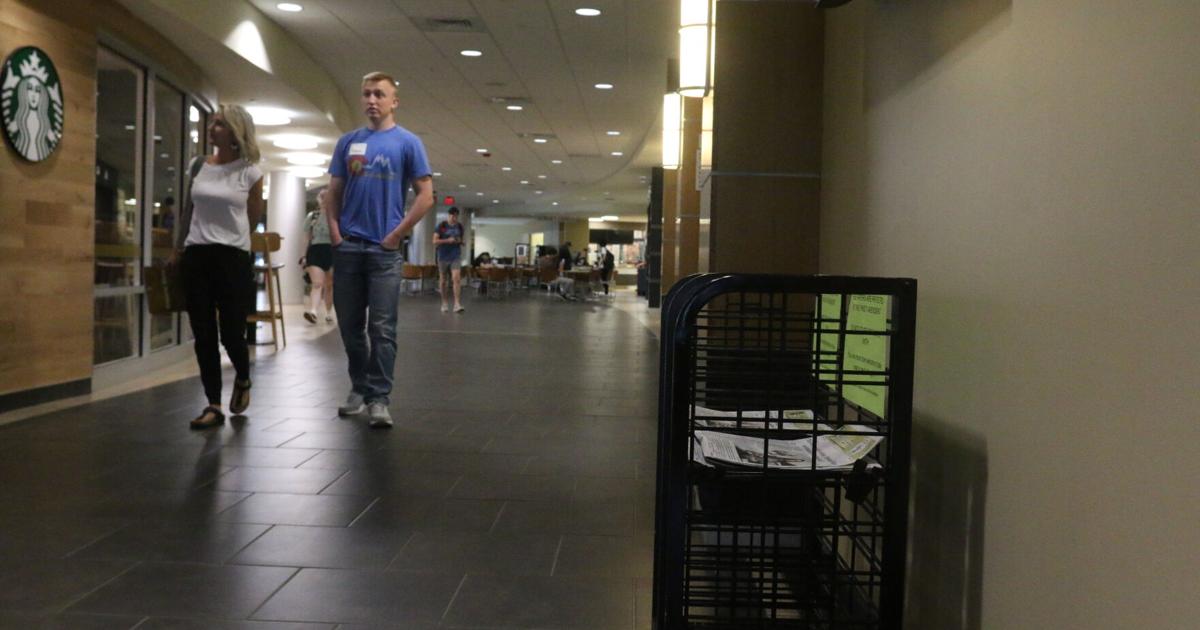 A campus cover-up: tampering with a newspaper rack is a nasty surprise | News
When the Emporia State editor The bulletin checked newspaper racks on April 15 outside Starbucks in the Memorial Union, she found two manila folders hiding the front page of newspapers. The main story in the April 14 edition involved a former student who was sued by Emporia State for undeserved financial aid.
On the day the logs were covered, a Hornet connection was taking place. Incoming students visit the school and register for the upcoming semester at this event. There were 107 incoming students present along with their guests, which comes to a rough estimate of 300 guests on campus. Registration began at 8:30 a.m. and the event ended around 3 p.m.
Eppens thought it was a suspicious time for the newspaper racks to be tampered with.
"The moment of cover-up is hard to ignore," Eppens said. "The front page obviously didn't make the university look good on a day when a hundred new students and their families were on campus, so I think someone tried to block those new people from seeing a story that might frighten them or make them hesitate.
The First Amendment contains five freedoms: freedom of speech, press, religion, assembly, and petition. The press has the right to publish accurate and fair news and information. Not only does covering the newspaper prevent the press from reporting news, it also prevents readers from knowing what is going on around them.
After Eppens found the files, she picked them up and then printed signs that read in all caps, "These papers are First Amendment protected. Do not cover or alter. (You're more than welcome to pick one up to read though!)"
Eppens and staffer Cameron Burnett then distributed papers to ensure potential readers had access to them at 11 a.m. for about 30 minutes, then returned around 2 p.m.
The following Saturday, a black and gold day took place. The Black and Gold Days are recruiting events for ESU.
On Monday, April 18, the signs Eppens had put up were removed. The tape was even peeled off the distribution rack. Eppens then filed a report with Jerry Cook, the university's police chief. Eppens replaced the panels on green paper with the same notice as the previous ones.
The bulletin staff posted the series of events on their Facebook page. ESU's Facebook commented on the post, saying, "Hello! Censorship is in direct opposition to ESU's value of respect. "The University values ​​integrity, collaboration, diversity, freedom of thought, freedom of inquiry and freedom of expression."
Eppens briefed Kevin Johnson, ESU's general counsel, and found his response less than concerned.
"Thank you for letting me know," Johnson said in the email. "However, it's hard to know what was intended unless the person who did it can be identified and their motive determined. Also, if they were trying to make some kind of statement or protest by covering the first page of the Bulletin, this could be interpreted as their first phrase of amendment.
Lindsie Rank of the Foundation for Individual Rights in Education and president of the Media Law Society, disagreed with Johnson's response.
James "Jim" Williams, senior vice president of student affairs and enrollment management at ESU, also sided with the student newspaper.
"The bulletin has, in my opinion, the right to publish news and he publishes news and he publishes information," Williams said. "And maybe sometimes people like what he posts and sometimes they don't, but that's the precipice of our free speech."
Max Kautsch, a Kansas Press Association hotline attorney, explained that all students have college protection.
"It's disappointing that the general council is seemingly disinterested in siding with the student newspaper," Kautsch said.
Rank and Kautsch took a similar position saying that if it was a student who covered the papers, they should be told why it is a problem.
However, if it was an administrator, it's a "clear violation of the First Amendment," according to Kautsch. Rank went on to say that this is a problem because they are civil servants and they are under the obligation of the constitution.
Rank also thinks it would have been necessary to make an investigation.
Staff tried to figure out what happened, but there are no security cameras in Memorial Union and no one saw anything.
"It's disturbing every time someone tries to stop the campus newspaper from reaching its audience," said Max McCoy, professor of journalism and Newsletters student editorial adviser. "While covering the first page doesn't seem like a big deal, think of it this way: Let's say you're talking to Memorial Union and someone tries to stop you by covering your mouth. Although hiding the first page under certain files does not imply a personal crime, the principle is the same Someone wants to silence you.
Whether that constitutes a violation of the law, McCoy said, depends on who covered up and what their motive was. If it was a government employee or other official trying to obscure the front page, it could be a violation of Newsletters First Amendment Rights and Other Protections.
"If someone wanted to put a sign next to the newsstand and say it's BS, you know they can do that," Rank said. "Or if they wanted to stand there and have everyone who passed tell them 'it's rubbish', they can do that. What they cannot do is interfere with your ability as an ESU Bulletin to express yourself.