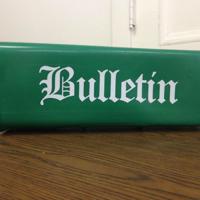 December 24-26, 2021 | Bulletin board
Merry Christmastide (The period from sunset on Christmas Eve to the evening of January 5, Epiphany Eve.) It is also known as the Twelve Days of Christmas or Yuletide.
* * *
For a good cause :
Sarah Hoffman, communications director for the Greater Latrobe Fellowship of Christian Athletes, has announced that the FCA will be collecting canned goods next month for the Westmoreland County Food Bank.
The "Take Down Hunger" event will be held at Greater Latrobe Senior High School on Tuesday January 11, during the Greater Latrobe wrestling match against Norwin.
Sarah explained, "Some of our officers and other members will have collection tables set up for collection before and during the first half of the game."
* * *
Dave O'Barto has announced that Sons of the American Legion Post 982 (Pipetown), a non-profit organization, will be hosting the Michael Osenkowski Memorial Veterans Breakfast Buffet from 8 a.m. to 11 a.m. on Sunday, January 16, at the home of job.
All veterans eat free; everyone else pays $ 6. The buffet will feature scrambled eggs, hash browns, sausages, pancakes, toast, coffee and juice.
Everyone is welcome. The post house is located on American Legion Road, off Charles Houck Road, in Unity Township.
* * *
This note arrived on Monday:
"Louise, thank you very much for putting the Nativity announcement live in the newspaper. We really appreciated that. We're so excited about it and pray and hope people will come out of it. It is very special. Merry Christmas. Debbie.
Debbie is the Business Administrator for Latrobe United Methodist Church, 440 Main Street. LUMC Ministries presented the Nativity live with Christmas carols and refreshments from 6 p.m. to 7 p.m. on Tuesday, December 21, Wednesday, December 22, and Thursday, December 23. Everything was free.
Newsletter The six photos of editor-in-chief Chris Ulicne from the opening night were published on the front page on Wednesday.
Debbie's comments after seeing Wednesday's edition:
"Ah, Louise. We just received our journal, and the photos of the living nativity scene are beautiful. Please say "thank you very much" to Chris and thank you again. Merry Christmas, Debbie.
* * *
Thelma Kemerer from Unity Township recently called the Newsletter newsroom to say that she has a special memory of a vacation approaching 80 years old.
Kemerer – who is still strong at 95 – said she still had a copy of an elder Newsletter photo taken when she and her sister, Janet, attended a nursery in the late 1930s.
Although the sisters are not listed in the photo caption, Kemerer estimated she was between 8 and 10 years old at the time.
She said the Nativity was placed in a barn outside Latrobe and that it included sheep from her family's farm. One of the reasons Kemerer, whose maiden name is Stewart, and his sister were at the Nativity was to help calm the sheep.
My thanks to Newsletter Assistant editor Nick Cammuso for contributing to this news article.
* * *
Wondering where to dine on New Years Day?
St. Paul's Evangelical Lutheran Church offers a free pork and sauerkraut dinner to all community members from 11 a.m. to 2 p.m. on Monday, January 1 at the church, 108 Dutch Hill Road, Latrobe (Trauger, Township of Mount Pleasant).
Traditional pork and sauerkraut, mashed potatoes, green beans, fresh rolls, hot dogs, homemade desserts and drinks will be served.
The organizers invite all members of the community to "please join your neighbors for a wonderful time of fellowship as we begin the new year".
Call 724-423-2590 with any questions or visit www.splchurch.com.
* * *
West Newton Public Library Director Robin Matty announced that the library at 124 N. Water St. had received "a large donation of current magazines from a customer who buys them weekly when she is shopping and a gift of Zoo magazines for young people. Stop and take as much as you want for free. They are located in our refill bag for $ 5 in the back room.
The opening hours of the library are Mondays and Thursdays from noon to 5 pm; Wednesday from 12 p.m. to 7 p.m. and Saturday from 10 a.m. to 2 p.m.
My thanks to Joe and Anna Margaret Mosso for the "Christmas Blessings" electronic card that I received on Tuesday morning. I think I'll play it again.
* * *
Thank you also to Funeral Director John McCabe of McCabe Funeral Home for the colorful tray of assorted Christmas cookies and the "Moments of Peace … Lasting Memories" card which arrived on Wednesday morning. Very appreciated.
* * *
The Westmoreland Museum of American Art, North Main Street, Greensburg, announced its holiday hours on Wednesday:
"Winter has arrived, and it's pretty freezing outside! During this cold season, warm up at Westmoreland with stimulating exhibits, seasonal drinks, in-person events and more! The Westmoreland will be open throughout the holidays (excluding Christmas Day and New Years Day) for your friends and family to explore! "
WMAA Vacation Hours:
Friday December 24: Early closing, 3 p.m.
Saturday December 25: Closed
Friday December 31: Early closing, 3 p.m.
Saturday January 1st: Closed.
Other than the days listed above, Westmoreland will be open during regular hours: Wednesday through Sunday, 10 a.m. to 5 p.m.
To know before leaving: For updated health and safety policies, including the requirement for proof of vaccination for certain events, click https://www.thewestmoreland.org/covid-19?eType=EmailBlastContent&eId=772ac78e-8633 -417d-89b3-b71bbe568a9f
The museum also invites the public to "stroll in the winter lights. Grab your coats and scarves and check out our display of glowing winter lights for the whole family. To be seen from dusk until 10 p.m. every night until January 30.
* * *
The Westmoreland County Regional Agency on Aging invites all caregivers to attend its monthly Caregiver Support Group meetings.
This support group provides an opportunity for caregivers to discuss concerns, share experiences, and gain support and information from other caregivers. At some meetings, guest speakers discuss topics of interest to caregivers.
Support group meetings are held at the McKenna Center for Active Adults, 971 Old Salem Road, Greensburg, on the second Wednesday of each month from 1 p.m. to 3 p.m. All caregivers are welcome to attend. RSVPs are preferred; call Denise Parker at 724-830-4484 or toll free at 1-800-442-8000.
The schedule for 2022 is as follows: January 12, February 9, March 9, April 13, May 11, June 8, July 13, August 10, Sept 14, Oct 12, Nov 9 and Dec 14 .
* * *
Remember that the Hebron Evangelical Lutheran Church, 125 N. Liberty St., Blairsville, welcomes everyone to its candlelight worship service on Friday, December 24.
The musical prelude "Oh Holy Night" will begin at 9:30 p.m. with a worship service, led by Reverend John Smaligo, starting at 10 p.m.
The pastor said, "We hope you will reunite with us as we worship and welcome the Baby Jesus, the newborn King!
* * *
This is from Derry Area College Council Secretary Keegan Watson:
"One of our student's GPA (cumulative grade point average) was miscalculated in our database system. He should have made the honor roll for the sixth year. His name is Nathan Bates.
In case you missed them, the First Quarter Honor Rolls were released December 10-12. Newsletters weekend Edit: Greater Latrobe High School and GL High School are on page A8, while Derry Area High School, DA High School, and Ligonier Valley High School are on page A9.
* * *
According to the Greater Latrobe School District calendar on www.glsd.us, the Christmas holidays began with an early layoff on Thursday, December 23 and will run through Friday, December 31. Classes will resume on Monday January 3.
* * *
Let's all have a safe and meaningful Christmas week. Take the time to savor the simple pleasures and the true meaning of the season.
Time and attention are some of the best gifts we can give to our loved ones.
* * *
Email bulletin board items to
Lifestyles Editor Louise F. Fritz
no later than 8 a.m. on Thursday