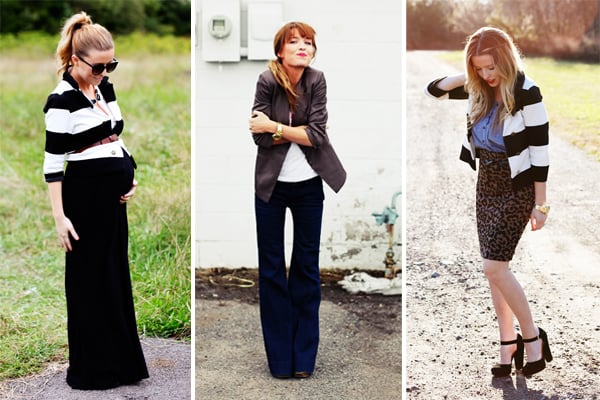 Fashion crush of the moment: meet Sydney Poulton from the Daybook
In October 2009, Sydney Poulton decided on a whim to start a blog with her new husband, Tyson, to document their life together and keep in touch with their families. But what started out as a personal daily reverie took off nationwide when she began showcasing her own outfits.
"I took inspiration from the Sartorialist's street style photos and just thought, why not? Poulton said. While the rest of the posts never deviated from discussions of her day-to-day life, readership exploded once the blogosphere returned to her impeccable style.
Two years later, and with over 10,000 readers to boot, Poulton has created a part-time job. Outside of his work as a photographer and time spent with his newborn baby, Everett, Poulton spends around 20 hours a week managing his blog, the Daybook. Its most popular feature? The humorous Awkward and Awesome Thursday articles, which chronicle the embarrassing, special and funny moments of his week. Awkward and Awesomes have become a phenomenon among bloggers, with over a thousand people reproducing them on their own sites.
We recently caught up with Washington's new transplant (she moved to Northern Virginia in August) to find out about the fashion must-haves that no Washingtonian should be without and how she thinks her blog will evolve in her new hometown. When Poulton walked in, looking effortlessly chic in his gingham check shirt, faux leather pants, red lips and beach waves, it was easy to see why readers around the world were turning to this young man from the twenties to be inspired by fashion.
Describe your style in five words or less.
I am a chameleon.
Where do you get your fashion inspiration?
Mainly from what I see on the streets and street style blogs. I'm much more interested in personal style than in catwalk looks. I'll take a look and think, how do I recreate this? I'll dress super girly one day, preppy the next and a little hipster the next. I am inspired by an eclectic mix of styles.
If you could have been born in another fashion era, which one would you choose?
The 60s or 70s.
What do you think are the main fashion differences between Washington and the Midwest?
In the small town where I studied, it was rare to see people take too many risks with fashion. In DC, everywhere you look, you see incredible personal style.
How has motherhood affected your style?
I don't think it is. I still love what I love and I still dress everyday which helps me feel the way I used to be. I try to live life as normally as possible, and let the blog reflect that.
What was the blog's biggest reward?
Connection with my readers. I read every comment and every email, and they all made me smile. My readers are wonderful.
What role do you see your blog playing in the DC blogosphere?
As Everett ages, I hope to spend more time in Washington, exploring museums, trying new restaurants, and shopping. Once that happens, the blog content will reflect my life in a new city. Right now it's a little hard to do a lot of exploring with a baby.
Where do you see yourself in five years?
We hope to still be in Washington, and I hope I have moved to the city by then. And I guess I'll be chasing a five year old. . . in my high heels.
What advice would you give to new bloggers?
Don't blog hoping to make a career out of it. Blog because you love what you write about and post pictures. People can spot passion from miles away, so there's a good chance that if you're passionate about your blog, you can be successful.
Fashion icons:
Rachel Bilson and Kate Bosworth.
Favorite area of ​​DC for shopping:
Georgetown.
Tennis shoes with skirt suits, yes or no?
No. Big no. Even tennis shoes with jeans are a no.
What do you think of Crocs?
Never never never. . . already.
Fashion's biggest pet peeve:
When women wear tube or halter tops with T-shirts underneath.
Five winter wardrobe essentials for every Washingtonian:
A chunky knit scarf, chunky knit tights, lipstick, a brightly colored coat, and lots of layered tops.
Favorite current trend:
Faux leather pants. But I like to pair them with something comfortable, like a casual sweater or shirt and flats or boots. Keep high end tones relaxed to reduce the risk of lows.
Trend you would like to see disappear forever:
Harem pants!
Do you see any current trends that could become classics?
Blazers buddy. They can really work wonders for an outfit.
Favorite local blogs:
Rockstar Diaries and what a nerd would wear.
Most practical shoe for Washingtonians:
Boots. Boots for the summer and thigh or thigh boots for the winter.
Favorite shoe in your wardrobe:
It's a link between my Nine West Mary Jane heels and my red zip-up boots from Famous Footwear.
Your essential wardrobe items:
My black boyfriend blazer, which can make any outfit more sophisticated; and my red Urban Outfitters cigarette pants, which add a fun pop of color when paired with a neutral top.
Favorite colors:
Gray, baby pink and cobalt blue.
And now the round lightning—
Red lips or nude lips?
Red.
Glitter during the day?
Yes.
Flat shoes, stiletto heels or wedges?
Corners.
Printed or plain?
Impressions.
Leggings like pants?
I do it all the time. They are essential for pregnancy and so comfortable when you are at home all day with a baby.
Are you more likely to splurge on a shoe or purse?
Definitely a shoe.
Complete this sentence: "I never leave the house without my. . . "
"Lip gloss or lipstick. "