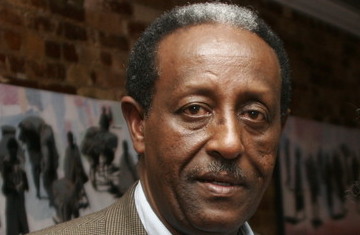 Interview with a CNN hero at Tadias magazine
[ad_1]
By Tadias staff
Photo above by Jeffrey Phipps for Tadias Magazine
Published: Tuesday, December 9, 2008
new York (Tadias) – We recently spoke to Yohannes Gebregeorgis, one of CNN's Top Ten Heroes in 2008. He was recognized for his remarkable efforts to provide free public libraries and literacy programs to thousands of children in Ethiopia, including the country's first mobile Donkey library. Mr. Gebregeorgis, 59, was born in Ethiopia and arrived in the United States as a political refugee in 1981. He eventually went to college, obtained a graduate degree in library science and worked as a librarian in San Francisco. for almost two decades ago. to embark on his current project.
Here is our interview with Yohannes Gebregeorgis:

Yohannes Gebregeorgis
Tadias: Yohannes, congratulations on being selected as one of CNN's top 10 heroes in 2008!
Yohannes Gebregeorgis: Thank you. I appreciate Tadias Magazine for consistently covering Ethiopia reads and let many Ethiopians and others know about our work. It is very useful when media like Tadias cover such works. Thanks again.
Tadias: CNN's Anderson Cooper said, "Our Top 10 CNN Heroes are proof that you don't need superpowers – or millions of dollars – to change the world and even save lives." Tell us about your organization, Ethiopia reads, and your efforts which have led to this recognition.
YG: It is very true that you don't have to be a superpower or a millionaire to change the world. Even though Ethiopia is not a superpower, we know there are millionaires in Ethiopia. However, they are not using their wealth to effect effective change or to save lives. I think the recognition that Ethiopian Reads has received is primarily for the recognition of the importance of literacy for the development of a country's future; for it is the power to change individuals and society. What we have accomplished over the past six years is a drop in the ocean when compared to need. It is a good start which must be kept alive until we cover all parts of Ethiopia. We have created two free public libraries for children and young people; one in Addis and one in Awassa. We have created a mobile donkey library and added three more by January 2009. We have created 16 school libraries and added 18 more over the next 6 months to a year. We have published 8 children's books and distributed over 30,000 children's books free of charge and another 75,000 will be distributed free over the next six months to one year.

Children reading in Awassa, Ethiopia.
We have over 100,000 children visiting all of our libraries; We instituted an annual Ethiopian Children's Book Week, a children's book prize – the Golden Kuraz Award, we provided basic library and literacy training to about 120 teachers and assistant librarians, we took thousands of children on the march to parliament, and in our annual Book-A-Thon, we have promoted reading and literacy several times in the local media. We have been widely featured in the international media. We have created a solid base from which we can launch massive campaigns to cover all of Ethiopia given that we have the resources.
Tadias: Among your projects that have captured the most press attention is Ethiopia's first Donkey mobile library. What prompted you to imagine this creative concept?
YG: The Donkey Mobile Library was designed because of the need to reach children in rural communities. The idea of ​​portable and mobile libraries existed in other countries. For example, there is a boat library in Colombia, South America, a camel library in northern Kenya, a bicycle library, and other forms of book delivery methods. The mobile donkey library is similar to a mobile book, a bus that transports books to different communities in developed countries. I saw a donkey-pulled satellite station in Zimbabwe several years ago and it gave me the idea for the mobile donkey library. I designed the entire mobile donkey cart with the shelves and storage areas. A very experienced Ethiopian metallurgical engineer built the units from the sketches and advice I gave him. An artist created the necessary logos and designs on the cart and it turned out to be the best.

The donkey pulls the mobile bookcase.

Yohannes with the donkey's mobile library.
Tadias: Can you share with us an anecdote that describes some of the experiences children have when they first visit one of your libraries? How did it change his life?
YG: When we opened our first library in Addis Ababa and the Donkey mobile library in Awassa, we noticed several children holding books upside down. These children had never held a book before. One of those children, who was nine at the time, is now a Star Reader, one of many children chosen each year for their reading skills and for reading aloud to other children. We select 12 Star Readers from the thousands of children who come to our library each year. Robel has visited the library every day since arriving six years ago. He has participated in all of the programs we offer at the library, such as English lessons, drama, arts and crafts, and the remediation program. Robel is also doing very well in his school as his grades have improved considerably. There are others like Robel who have been part of the library family as we have known them for as long as the library has existed.
Tadias: Eighteen years ago you made her American debut at Mammo Qilo (the popular Ethiopian children's tale). You are the author of "Silly Mammo", the first bilingual Amharic-English children's book. Why Mammo Qilo?
YG: I'm so glad Kilu Mammo got famous in America! When I first thought about producing a book for Ethiopian children, Kilu Mammo was the only story that came to my mind and that I liked. Many Ethiopians remember their childhood story like me. It is a very simple but sympathetic story. Children love silly stories to begin with and Mamo Kilu not only entertains children but adults as well.
Tadias: We understand that you have a graduate degree in library science and have been a children's librarian at the San Francisco Children's Library. How big, would you say, is the pool of qualified librarians in Ethiopia who can help with new library projects?
YG: There are not many Ethiopians who have a background in library science. No institution has a training program, as Addis Ababa University cut its library program about five years ago. I don't think the Ethiopian education authorities consider libraries to be something very essential. Also, to my knowledge, there is no library policy in the education policy of the country, so it is difficult to have training programs where no one would hire the trained people. We are having difficulty finding qualified librarians. We have been hiring librarians since the start of our program in Ethiopia. We offer a basic library training program to the school libraries we create.
Tadias: What are your long term plans to expand your program across the country? And what kind of help do you need?
YG: Our plan is to expand our projects and programs to all regions of Ethiopia by expanding them to at least one region every two years. We now have projects in place that can easily be duplicated. In order to achieve these ambitious goals, we need first and foremost financial support, then other material support such as books, computers, etc., and finally any other type of support such as only volunteers.
Tadias: How can your US-based fans help you achieve your organizational goals?
YG: There are so many ways our fans in the United States can help. For example, we are about to embark on a membership drive aimed at Ethiopians. We saw how enthusiastic Ethiopians became when they found out about the work we are doing in Ethiopia. We see a very positive attitude and a desire to help from a large number of Ethiopians. We would like Ethiopians to support our work by becoming members and donating ten, twenty or any amount of money they can. Each week in the book has a theme around which we can actually afford a monthly installment. We would like a few thousand Ethiopians to sign up for this monthly donation. Those who can afford it can sponsor a library in memory of someone they love, sponsor a Donkey mobile library, sponsor a book publication, and more. Our fans can get involved in many ways. People can find more information on our website ethiopiareads.org.
Tadias: Is there anything else you would like to share with our readers?
Since 2003 Ethiopia Reads has held an Ethiopian Children's Book Week every year, an annual celebration of books, reading and libraries. In our first week of the book, we took over a thousand children on the march to the Ethiopian Parliament with a petition calling on the government to provide libraries and books for children. We have special programs every day of the week such as Read-A-thon, Book-A-Thon, Bread and Books Day, International Children's Book Day, Book Launch, Golden Kuraz Award, Star Reader Award, Art Day and many more others. activities take place for a week. Each week of the book focuses on a special theme. Readers are leaders, Libraries for Rural Development, Bread and Books for Children, Readers Bloom, Ethiopia Reaches Out, are the themes of Book Week for the past six years. Special posters reflecting these themes are produced and distributed. Next Book Week is the sixth Ethiopian Children's Book Week to be held April 1-7, as always, with a theme "Ethiopia Reads" (Ethiopia Tanebalech). What we want to share with Tadias readers is to celebrate Book Week with us by reading to children, making books available to your family, supporting Ethiopia Reads and other organizations working in Ethiopia. .
Tadias: Thank you very much for your time, Yohannes, and good luck in your work.
YG: Thank you Tadias for your interest in the work of Ethiopia Reads and for supporting us by writing about our work.
–
Yohannes will speak in Harlem (New York)
Saturday December 13 at 2:00 p.m. at Cafe Addis (435 West 125 Street, NY, 10027). Telephone: 212-663-0553 (Mekonen or Negus).
Yohannes in Maplewood, New Jersey
Yohannes will appear at the Maplewood Public Library in Maplewood, NJ on Thursday, December 11 at 7 p.m.
Yohannes in Silver Spring, Maryland
Wednesday December 17 – 7:00 p.m. Abol Restaurant, 8628 Colesville Road (across from AFI Silver Theater) Silver Spring, MD 20910 (RSVP: Matt Andrea 202-232-9085, Maureen Evans 301-386-5610).
[ad_2]