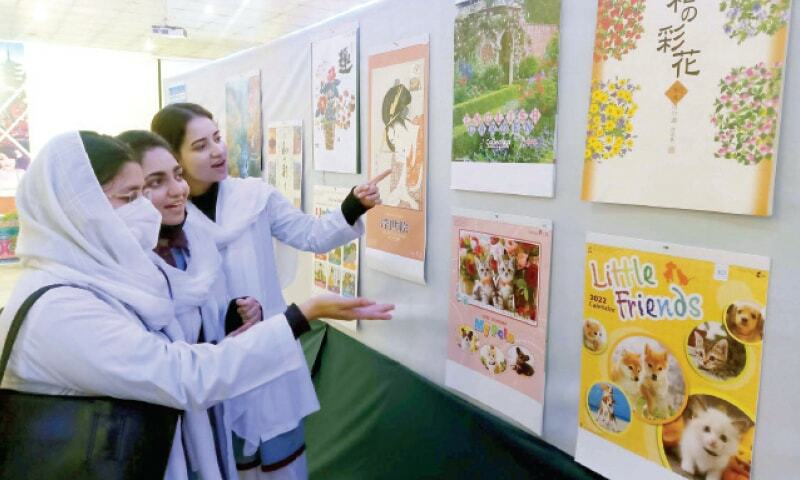 Japanese calendar exhibition opens in Peshawar – Newspaper
PESHAWAR: The two-day Japanese calendar exhibition kicked off here Monday at Gandhara University under the auspices of the Japanese Embassy in Pakistan and the Pakistan-Japan Cultural Association.
The event is held as part of the 70th anniversary of the establishment of diplomatic relations between Japan and Pakistan.
The exhibit will be open to the public from 9 a.m. to 1:30 p.m. daily. The exhibition was opened by the Head of Public Affairs Section of the Japanese Embassy, ​​Ryuji Iwasaki, while Roeeda Kabir, Fazal Karim Afridi, Khalid Sultan, Ghulam Noorani, Professor Ejaz Hassan Khan, Professor Shaheed Iqbal and other dignitaries and students were present on occasion.
The Japanese Calendar Exhibition is an annual cultural event, popular among Pakistani people. This year, around 75 calendars were exhibited in the exhibition. These calendars depict various subjects such as contemporary and traditional art, gardens, landscapes, costumes, people, art, photography, automobiles, wildlife, lifestyles and historic places, which are related to Japan.
Since each calendar is a work of art, the producing companies have tried their best to attract viewers through different topics and mediums. The exhibition will not only give an image of the socio-cultural evolution of Japan over the centuries, but will also present the aesthetic characteristics of Japanese artists.
Visitors can see the newest printing technology crystallized in Japanese calendars. They can also enjoy the diversity of Japan through this calendar exhibit.
Posted in Dawn, January 18, 2022