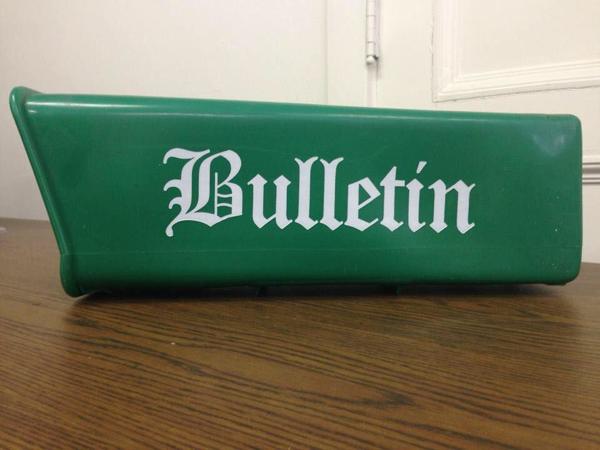 May 6-8, 2022 | Bulletin board
Happy Mother's Day weekend!
After checking the website www.usamothersday.com/history-of-mothers-day/, I would like to share this paragraph:
"The first official celebration was held at a Methodist church in Grafton, West Virginia, in May 1908. It was organized by Anna Jarvis and was financially supported by John Wanamaker, a Philadelphia store owner who organized an event for Mother's Day on the same day. Anna Jarvis continued her efforts and wanted Mother's Day added to the national calendar by writing letters to newspapers and politicians. In 1912, the day would be celebrated annually in many many states and cities, and in 1914 President (Woodrow) Wilson signed a measure establishing Mother's Day as an official annual celebration on the second Sunday in May!
* * *
Hebron Evangelical Lutheran Church, 125 N. Liberty St., Blairsville, and Rev. John Smaligo are all inviting to a Memorial Day celebration at 10:45 a.m. on Sunday, May 29.
The pastor said: "This special tribute will include a scripture lesson, a prayer, the playing of 'Taps' and a hymn at the end of our worship service. We invite all to worship with us as we join in this time of thanksgiving and prayer.
* * *
That reminds me:
It's not too early to submit information for my annual Memorial Day weekend activity recap which will be released the week before the holiday.
All veterans organizations, fire departments and others planning Memorial Day celebrations are asked to send their details and/or programs. Please email (if possible) [email protected] or fax 724-537-0489, drop in mail slot next to front door, 1211 Ligonier St., or send a letter to the editor of Lifestyles Louise F Fritz, Latrobe NewsletterPO Box 111, Latrobe, PA 15650-0111, by Friday, May 20.
Be sure to include the sender's phone number in case I have a question; the phone number will not be published.
* * *
Christ United Church of Christ, 1414 Ligonier St., Latrobe, will host two events next weekend:
• A sing-along and mocktails (non-alcoholic drinks) at 6:30 p.m. on Friday May 13, with vocals at 7:30 p.m. Lauren Condon will be on guitar; Julie Sexton will play the piano.
• Prayer Vigil for Ukraine 4 pm Sunday 15 May.
Questions about either? Call Bobbie at 724-506-3494.
* * *
The Paul Lizza Post 3414 Foreign War Veterans Auxiliary will hold its monthly meeting at 4:30 p.m. on Monday, May 9, at the Home Post, 204 Spring St., Latrobe.
"Any questions, call 724-537-6480 and someone will answer you," Linda Butler, assistant spokeswoman, said.
* * *
The next meeting of Knights of Columbus Daniel P. Nolan Latrobe Council 940 will be held Monday evening, May 9, at the council foyer in Loyalhanna.
Socializing begins at 6 p.m. followed by the prayer of the Rosary at 6:30 p.m. The regular meeting follows the Rosary.
"All members in good standing are asked to attend and participate," Knights spokesman Tony Dominick said.
* * *
My thanks to Todd Weimer, Administrative Director of the Eastern Westmoreland Career and Technology Center, for sending the following:
"At their regular meeting held on April 27, 2022, the members of the Joint Operating Committee approved the following:
"Motion to approve the 2022-23 school calendar as presented.
"May this letter and attachment serve as official notification of the above action of the Joint Operating Committee."
* * *
St. Stephen's Orthodox Catholic Church, 1520 Susan Drive, Unity Township, will host "Music in May" from 3-5 p.m. on Saturday, May 21 at the church.
According to Brigette Klosky's purple flyer, the outdoor event will feature "the music of The Bricks." Participants are asked to "bring your blankets and chairs and have fun".
Food and drinks will be available for purchase between 2pm and 5pm
The church is located on Mission Road in Lawson Heights. Questions? Call 724-539-1109.
* * *
Edward Springel has announced that Trinity Evangelical Lutheran Church, 331 Weldon St., Latrobe, will be sponsoring its 21st Annual Car Hop from noon to 5 p.m. on Sunday, June 5, in the Main and Weldon Street parking lots.
Registration is $5. You can pre-register by calling the church office at 724-537-4450 by Friday, May 27. Pre-registrants will receive a $5 coupon that can be used to purchase food. Parking spaces cannot be saved.
Dash plates are available for the first 150 vehicles registered. Door prizes and trophies will be awarded.
Trophies will go to vehicles registered in 15 classes.
Mr. Springel added: "Whether you have a vehicle to register or not, everyone is welcome for this fun and relaxing afternoon. Proceeds will benefit our youth ministry.
Contact Trinity at 724-537-4450 or email [email protected] to register or for more information.
From 5:30 p.m. until Monday, May 9, in the dark of night, the scouts of the 311 scout troop of the parish of St. Vincent's Basilica in Unity Township will help the community revitalization program of Latrobe with works landscaping and sidewalk in front of the Latrobe Medicine Shoppe, 709 Ligonier St.
Scouts will be accompanied by Assistant Scout Leader Ryan Gaffney.
My thanks to spokesperson Heidi Pedicone for the BB news.
* * *
LCAA volunteer Barbara Davis writes:
"The Latrobe Center for Active Adults, 15 Avenue C, would like to thank everyone who purchased the April Chicken and Biscuit fundraiser. A big thank you also to everyone who donated items, food, time and support in any way to make the event happen.
"We send our best wishes and hope everyone will celebrate and have a happy Mother's Day on Sunday May 8th.
"Excela Health Home Care representative Lois is due to present on May 11, Wednesday at 10:30 a.m.
"Please join Antonia for her Penn State Nutrition Education on May 12th, Thursday at 10:30am. She gives a great presentation and gives everyone a sample of the recipe she is presenting that day. Educational and delicious too!
"We hope you have marked the days of Friday May 20 and Saturday May 21 from 8 a.m. to 1 p.m. for the garage sale at the center. It will be inside the center and outside as well. Last call to accept donations for sale, one exception is not electronics; everything else is welcome. Merchants and artisans are invited to participate. Call the center to register and for more details.
"There will be a Seniors for Safe Driving course here on Monday, June 27, from 9 a.m. to 1 p.m. If you missed the course in March at WCCC, now is your chance to register. The class usually fills up quickly; do not be too long. Course benefits include a minimum car insurance reduction of 5% for three years and other benefits. Only in class and no exam. There is a $16 fee. We have a flyer available and the number to register by phone or online. Thanks, Jason Silvis, for helping to make this possible.
"Our supervisor, Colleen, has left us and we wish her well. There is always someone at the center (724-539-0237) to answer your questions. Our manager, Jody, is available at 724-547-4593.
* * *
The annual Candlelight Vigil Walk will begin at 7:30 p.m. on Thursday, May 26 at Crabapple Park and Pool, Herminie-West Newton Road.
The organizers invite the inhabitants of the district to "join us for a time of reflection, music, prayer and lighting of the candle of the vigil".
For more details, contact Matt at 724-244-9757 or Lisa at 724-329-5704.
* * *
Some reminders :
St. John the Evangelist Church, Latrobe, will have its first annual indoor craft and vendor show from 9 a.m. to 3 p.m. on Saturday, May 7, in the school hall on St. John Drive.
Peggy Goldberg, secretary of partner parishes of St. John the Evangelist and St. Rose, said there will be "approximately 50 artisans/vendors. You can also try your luck on 50/50, basket raffles, Chinese auctions or buy food.
"Any woman 18 or older who attends the show will receive a free ticket for a chance to win a 'surprise' basket."
* * *
The Pittsburgh Three Rivers Ringers have been invited back to Ligonier for a 5:30 p.m. concert on Saturday, May 7 at Heritage United Methodist Church on the Diamond. Reverend Frank Hodges, pastor, and the worship committee chaired by Birdie Roehrig invite the public to attend the bell concert. There is no cost to attend; however, a voluntary offering will be taken.
Three Rivers Ringers play a full set of seven octaves of Schulmerich Bells, five sets of Schulmerich Hand Chimes, one octave of Malmark Bass Chimes, and two octaves of Schulmerich Silver Melody Bells. The organization dates back to 2010, according to its website, and is a significant contributor to arts culture in western Pennsylvania, performing private and public concerts throughout the winter and spring.
* * *
My thanks to Danielle Schnur for responding to my request by e-mail:
June 5 is the registration deadline for "Make Waves" Vacation Bible School for kindergartners – five being hosted by Charter Oak Church at Latrobe Elementary School.
As announced on my Wednesday Lifestyles page, the VBS will take place from 6-8:30 p.m. Monday, June 13 through Thursday, June 16 at LES on Cedar Street.
The cost of the event is $5 per child. You can register at charteroak.church/vbs.
* * *
Ring Pittsburgh Community Handbell Ensemble will make an appearance at 7 p.m. on Sunday, May 22 at St. Vincent Archabbey's Basilica in Unity Township.
The concert, which will feature a wide variety of musical styles, is free and open to the public.
Ring Pittsburgh was founded in 2016 as an auditioned community of musicians skilled in the art of ringing bells.
* * *
Email bulletin board items to
Editor Louise F. Fritz
no later than Thursday 8 a.m.