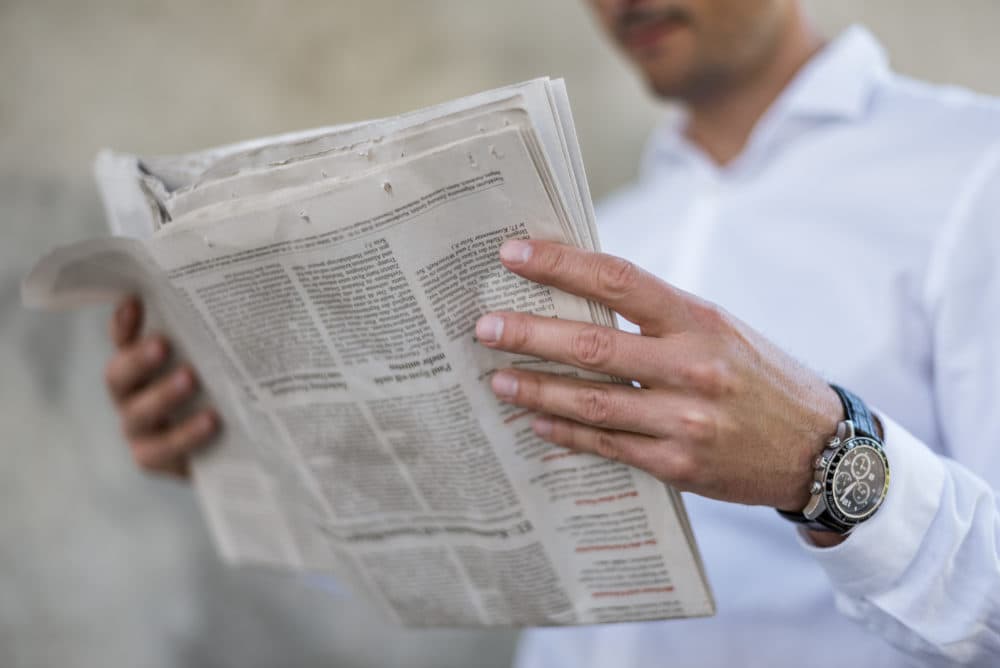 Newspaper giant Gannett is ending print runs for many local weeklies in Mass.
More than two dozen local newspapers are about to disappear from the driveways and porches of homes in eastern Massachusetts. Some will be replaced by a regional substitute, but most will go digital only.
Last week, the Gannett newspaper chain announced on each newspaper's websites that it would stop printing at least 19 weeklies by the first week of May. The announcements said coverage would continue online. (A full list of affected newspapers and communities is below).
Gannett also announced that it will merge nine weeklies on May 12. For these newspapers, printing operations will continue.
Talk with Radio Boston Tiziana Dearing, Dan Kennedy, a journalism professor at Northeastern University and a media pundit who blogs about his thoughts on the industry at Media Nation, said the move would further crowd out community journalism.
Here are some highlights of the conversation:
On those weeklies printed as "zombie newspapers":
"Another term often used is 'ghost newspapers.' And the idea is that many of these newspapers were already printing very, very little local news. Network [they belonged to].
"Gannett's flagship is USA Today, and you'd see all these bylines that say 'USA Today Network.' relevance to you whatsoever."
On how the digital switchover will affect coverage in these communities:
"I have to say, this announcement comes just weeks after Gannett told reporters at his Massachusetts weeklies that nearly all of them would be reassigned away from their local beats and onto a regional beat so that all of their work could be done in more a Therefore, you wouldn't have that hyperlocal coverage.
"On top of that, the rhetoric you see coming out of Gannett is that they're going to be just as committed to covering local news on their digital platforms as they were in print. Well, that's not very reassuring, given how little news was in these papers.
"I'm far from being a nostalgic for print. But they were already doing very little of it and I don't think we'll see much on their sites either."
What the coverage will look like in the future:
"With these articles, we are looking at 25 or 30 years of one series of cuts after another, in many cases preceding Gannett's ownership by several years. So the idea that the cut will now stop or that "It might even reverse and they start growing again, whether in print or online, that's a wonderful thought but it's really not confirmed by experience."
On national politics affecting understanding of local issues:
"I believe that strong community journalism can be a way to overcome the horrible polarization we are currently experiencing in the country.
"You know, the old cliché is that there's no liberal and conservative way to pick up trash. Everybody wants efficient trash pickup. Everybody wants good school systems. Everybody wants a a strong police service that nevertheless respects the rights of citizens, these are issues that must bring us together.
"Of course, as we increasingly see, school and police issues are caught up in this polarization and to the extent that we have increasingly unreliable local information, the fear is that this polarization will do than increase."
On the future of local journalism:
"The silver lining is really in these independent projects. I recently put together a spreadsheet of every independent local news project in Massachusetts that I could find, and I was truly amazed to see that something like 200 communities in Massachusetts have something – and I'm not even counting the big news outlets like The Boston Globe or WBUR or GBH News, I'm just looking at hyperlocal projects.
"Some are better than others… But I think it's encouraging that there have been all these projects out there, at least trying to tell the story of their communities independently without getting caught up in the downward spiral of corporate channel journalism. "
Here is a list of the newspapers and communities concerned:
These papers will cease to be printed and will only go digital:
The Beacon – Acton, Boxborough
Billerica Minuteman – Billerica
Needham Times – Needham
Brookline tab – Brookline
Burlington Syndicate – Burlington
Eagle Independent – Littleton, Chelmsford, Westford
Bedford Minuteman – Bedford
Kingston Journalist – Kingston
Country Gazette – Plainville, Millis, Foxborough, Wrentham, Franklin, Medway, Norfolk, Bellingham
Transcript and Bulletin – Norwood, Dedham, Westwood
Town Crier of Wayland – Wayland
Town Crier of Weston – Weston
Sudbury Town Crier – Sudbury
Carver Journalist – Carver
Journal News Independent – Bridgewater, Raynham, Mansfield, Easton
Lighthouse Villager – Maynard, Stow
Waltham News Tribune – Waltham
Newton tab – Newton
Watertown Tab – Watertown
Times Lawyer – Sharon, Walpole
These papers will merge: