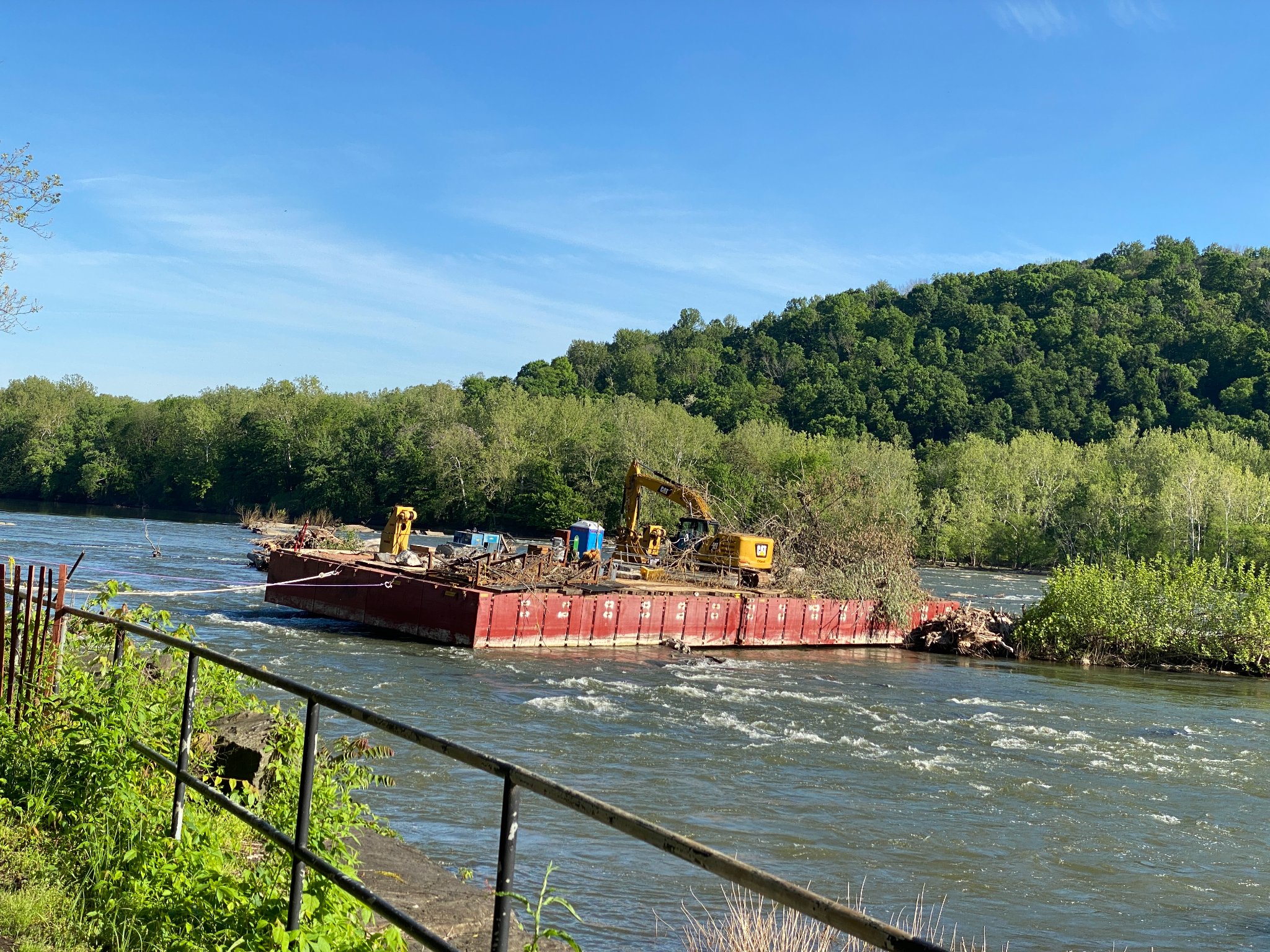 The rescue of the escaped Harpers Ferry barge begins
More than six weeks after two construction barges broke in the middle of a heavy flow of water on the Potomac River, attempts to rescue the largest barge are finally beginning. And it could take up to four more weeks to remove it.
A spokesperson for the C&O Canal National Historical Park said the contractors finalized their plan last week and recovery operations were underway on the larger of the two barges, which is stuck on the ruins of the Potomac Dam n 3. One of the reasons given for the four-week estimate to remove the barge is that it depends on weather conditions: efforts can be delayed by rain or flooding.
The smaller barge, which was also floating downstream of the C&O Canal National Historic Park, had been pinned down by water currents at Potomac Dam No. 4. It was easier to pull out and was cleared of the river on May 12. , a few days after his breakup. ample. He had an excavator and smaller construction equipment that came out of his deck, and these can be seen sitting on the bottom of the river when the river level drops. Park officials say the contractor is developing a plan to recover the equipment.
The two barges were part of a project at McMahon's Mill to rehabilitate a historic stone retaining wall and stabilize the towpath along a 0.9-mile stretch in Williamsport, Maryland. They were loaded with stones and equipment to shore up the C&O Canal towpath along the Potomac River. .
However, during a rainstorm in early May, over 2.3 inches of rain fell in the Harpers Ferry area, causing intense river currents. As bay bulletin reported, barges were being hauled downstream at startling speed, captured on video by people along the river.
During the larger barge removal operation, there will be some impact on trail use for public safety. Signed closures will be in place at the Potomac Street / Armory Canal Trail extension at the south end of the trail and access to Potomac Street from Bakerton Road will be closed to the public.
On the river, boaters should stay as far away from the Maryland shore as possible, "river to the left" when looking downstream, to avoid the salvage area. The park asks that no one approach the barge with other vessels or attempt to board.
-Meg Walburn Viviano